Hatfield-Towamencin Baseball offers many different fields across a handful of locations within Towamencin Township and Hatfield Township. Everything from small 50 ft diamonds for the little athletes up to 90 ft diamonds for the older ones.
Bustard Road Park is Towamencin Township's primary active athletic facility. Its almost 13 acres boasts 5 junior league baseball fields, 4 various sized softball fields, and 3 soccer fields during soccer season.
Large parking areas surround the perimeter of the ball fields. It also has restrooms for park users, an open pavilion and a snack stand for use during athletic events. The play area for toddlers has age appropriate playground equipment.
The facility hosts a variety of sport leagues coordinated and managed by the all-volunteer Towamencin Youth Association (TYA).  All residents are invited to watch our youngsters' exciting sports events as well as picnic in the shade of the pavilion or just enjoy the large open space.
The Park entrance is located on Bustard Road just south of Old Morris Road.
The Park GPS location is:
1979 Bustard Road, Harleysville PA 19438, US.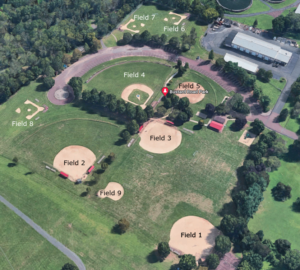 Green Lane Park is an active recreation ballpark facility with two Cal Ripken 50/70 baseball fields used by the Towamencin Youth Association (TYA) for mid-level organized play. The Fields can also convert to 46/60 distances for optimal play. The fields are fully equipped with dugouts, batting cages, scoreboard and permanent ball field fencing.  There is also a snack stand which is operated by the youth organization during games.
There is an on-site parking area adjacent to the ball fields. No athletic activity parking is permitted on Green Lane Road or the adjacent residential streets. The Park entrance is on Kriebel Road, just west of Green Lane Road.
The Park GPS location is:
2201 Kriebel Rd, Lansdale, PA 19446.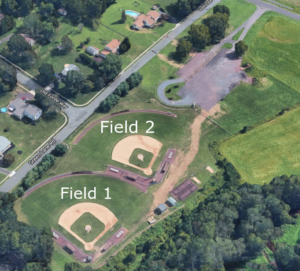 This is another of Towamencin's neighborhood parks located in the northeast area of the Township. This 2 acre park has a small ball field perfect for pick-up games and a tennis court waiting for hours of family fun.  TYA uses this park for its younger league activities.
The Park GPS location is:
1600 Heebner Way, Lansdale PA 19446.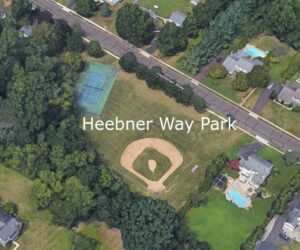 This 36-acre park is a busy site for active recreation, with a premium, lighted hardball facility, a lighted softball field, and a FIFA-level tournament soccer field. It is also a mecca for walkers, offering people a 9/10 mile paved multi-use trail, a mowed-grass trail and a mulched trail through a wooded area. It is the end (or start!) point of the 1 1/2-mile Chestnut Street Trail, connecting the park's rear entrance to Hatfield Borough's Electric Plant Park. School Road Park is the site of Hatfield Township's summer MusicFeast outdoor concert series. Visitors will find that their laptops are Wi-Fi enabled from the pavilion and from nearby resting benches. Due to the heavy use of lawn areas for sports and outdoor concerts, School Road Park is one of two parks in the Township system that does not allow dogs.

Additional features:
30 x 50-foot pavilion with a concrete floor
16 picnic tables made of recycled plastic
2 charcoal grills
Building with 800-amp electric service
An amphitheatre for live performances
Playground area
The Park GPS location is:
1619 School Rd, Hatfield, PA 19440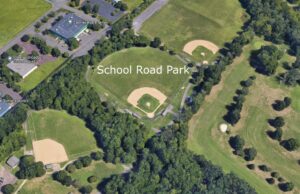 Clair 'Butch' Clemens Park, located behind the Wawa and Chick-fil-A restaurant on Forty Foot Road.
Towamencin's supervisors recognized Clemens for a lifetime of selfless service to the community by naming its newest park in his honor. According to the township, Clemens has been a member of the Towamencin Volunteer Fire Company for 60 years, serving as chief for many of those years. He previously served as a member of the board of supervisors where he was instrumental in establishing the police department for the growing community during the early 1970s.
The 14-acre park includes a Connie Mack-size baseball field and large general purpose athletic and sports field. Connie Mack Baseball is a community league set up for participants 13 to 16 years old and is played on a regulation, full-sized baseball field with 90 feet between bases and 60.5 feet from the pitcher's mound to home plate. Towamencin Connie Mack was started in 1973 and plays in the Bux-Mont Division of the Pennsylvania Connie Mack Baseball League, which was formed in 1953 and has two divisions, the Bux-Mont and the Lehigh Valley.
The Park GPS location is:
130 Forty Foot Road, Lansdale, PA 19446