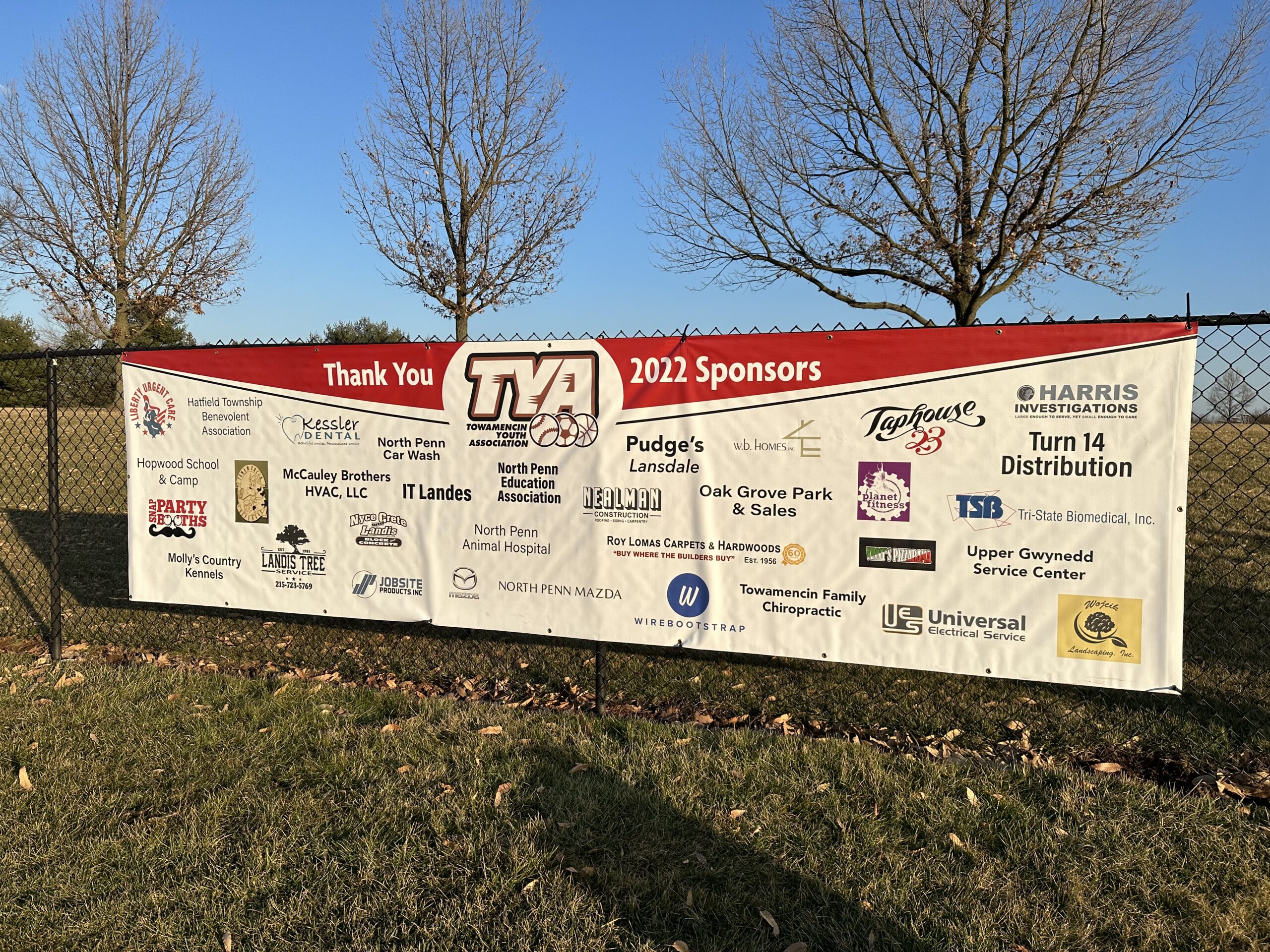 TYA loves our sponsors — and we hope you'll join us this year!
It is through the generosity and support of our local businesses and organizations that TYA has been able to dedicate itself to creating dynamic youth programs that promote teamwork, sportsmanship and healthy lifestyles. From baseball to softball and soccer to basketball, TYA has grown to serve over 2,000 young athletes, ages 4 to 18. And with the help of our sponsors, we've been able to keep our costs low and the quality of our programs high.
If you were a TYA sponsor last year, we sincerely THANK YOU! And to recognize your good will , we have placed two (2) large banners at the corner of Allentown and Forty Foot Roads with the business names/logos of our 63 sponsors. And we hope for your continued support this year.
If you have not been a TYA sponsor, we invite you to join us. As a valued business partner, you'll discover what a rewarding experience this can be – one that benefits your organization and the surrounding community.
Each TYA sponsorship package provides great advertising opportunities for your company, including:
Your business name on one (or more) team jerseys
Your business name and logo featured on our TYA website with a hyperlink to your business URL
End-of-the-year sponsored team photograph(s) to display in your business or office.
You can choose to sponsor any sport(s). And if you have a child in the program, you can have his/her team jersey emblazoned with your company name.
Register to Become a TYA Sponsor
We have made it very easy to register for our sponsorship packages on-line. And you can pay by major credit card (we accept all cards except AMEX) or via an ACH payment from your bank account. To get started, just click here: TYA 2023 Sponsorship Packages
If you would prefer to go the paper route, you can download the registration form by clicking on this link: TYA 2023 Sponsorship Registration Form
We have added a new sponsorship level for 2023 called the Elite  level. There are only five sponsorships at this level this year. You can click here to register for this new program: TYA 2023 Elite Level
Mail the completed form (with a check made payable to TYA) to this address:
TYA
Sponsorship Registration
Post Office Box 1190
Kulpsville, PA 19443-1190
Come join us and become part of the exciting community of TYA! We thank you for your support!
Any questions, contact Bill Sinn, TYA Sponsorship Director, at wllsinn011@gmail.com